The Awareness Centre
The Awareness Centre, which is now defunct [ NB it is up and running today, 1 January 2013 - http://theawarenesscenter.blogspot.com/ ] dealt with sexual abuse carried out by Jews. It was run by Vicky Polin as a one woman operation with an on line presence at The Awareness Centre which is now at http://theawarenesscenter.blogspot.com/. It names rabbis in particular who have tried it on, abusing positions of trust. In fact Mrs Polin appeared on television claiming that she was the victim of rape and part of a family that practice pederasty - see Incest Survivor Exposed Satanists - and Cannibalism. Jews are an odd lot.
The South Ronaldsay child abuse scandal demonstrates the problems with that sort of thing. The head interrogator bullied children into making up the stories that she wanted. She did the same when she was running the Cleveland child abuse scandal. See the Wiki's List of Satanic Ritual Abuse Allegations
The centre shut down in March 2011 due to lack of income. There was major criticism of her sources.
The Awareness Centre - Wikipedia version
QUOTE
The Awareness Centre, Inc. was founded as an international, non-profit tax-exempt, educational organization also known as the Jewish Coalition Against Sexual Abuse/Assault (JCASA), whose mission is to end sexual violence in Jewish communities.
UNQUOTE
The Wikipedia manages to seem unenthusiastic about Vicki. It says that she fingers the guilty without much in the way of evidence. Of course once they have been charged, tried, convicted and sentenced they should not be able to do so much damage. Given the reality of the legal system and its delays she has a point.

Incest Survivor Exposed Satanists
Henry Makow adds to Mrs Polin's sources.

Jewish Child Molesting Rabbis Get No Media Coverage
Well of course they do not. They are Jews. The Main Steam Media is heavily infiltrated by Jews even when they do not own it outright.

Jewish Sexual Abuse
It is out there. It is happening. The publicity is not though. That is because Jews control the Media

Jewish Sexual Abuse
Here are the results of a search. Things do happen. They even get written up from time, not too often though. They might give us a bad impression of God's Chosen People.



http://uk.youtube.com/watch?v=R8RHl1KdM0w&feature=email - YouTube got rid it, saying it violated terms and conditions.

Jews And Devil Worship
Jews look reasonable from the outside and worship the Devil in secret. This sounds fairly way out. Is it true? A Jew says yes and she was part of it, as a victim. It fits in nicely with their human sacrifice, which they deny very loudly in public. That is what they call the Blood Libel. Professor Toaff explained that. Read for yourself. Think for yourself. Decide for yourself.

Rabbi Motti Elon - Pervert
QUOTE
Rabbi Motti Elon is being formally indicted for sexual offences against two former students, both of whom were minors at the time of the alleged acts, in 2003 and 2005. Meanwhile, in what may either be an ironic twist or perhaps a meeting of the minds, Elon has apparently been teaching classes at the home of former Israeli president Moshe Katsav, who was recently convicted of Rape and other sexual offences. One cannot help but wonder what lessons they are learning together.
UNQUOTE
Another Jew, another chancer. Katsav got seven years.

Web Site Tracks Sexual Abusers
Vicki Polin, (A.K.A Rachel) 44, created and runs The Awareness Centre, an organization devoted to the issue of sexual abuse in the Jewish community. Essentially a one-woman operation, the centre exists only on-line, through its Web site, www.theawarenesscenter.org, and over the phone. Polin and her board members, who include prominent rabbis and professionals knowledgeable about issues of sexual trauma, consult with people who turn to the organization for help.

Sex, Lies, and Rabbis - Breaking a Sacred Trust
QUOTE
This book does one thing, it shows that the author is an egotistical, self-serving feminist. It is poorly written and makes one wonder how truly over-exaggerated is the reporting. Some of it is so implosible [ sic ] that it made me think that it must be fiction rather than a memoir. After reading over 100 pages of it I could take no more and put it away. I am sorry that I spent money on this type of trash. Don't spend yours.
UNQUOTE
Some one did not think much of it but it stands as a self-published(?) source of more or less reliable evidence.
Panel Discussion After Narrow Bridge
QUOTE
The above film is of the panel discussion that went on after showing the movie 'Narrow Bridge', a film about clergy sexual abuse in the Jewish community. The showing was in to the Baltimore, MD on January 2, 2008. The event was sponsored by The Awareness Centre, Inc., which is the international Jewish Coalition Against Sexual Abuse/Assault.
Mesa Leventhal Baker, MD - Medical Director of the Baltimore Child Abuse Centre.
Senator Jim Brochin
Murray Levin, JD - Survivor of Rabbi Ephraim Shapiro
Israel Moskovitz - Director/Writer/Composer and Plays "Daniel Schneider"
Vicki Polin, MA, LCPC, NCC - Founder and Director of The Awareness Centre, Inc.
Bob Russell - Legislative coordinator of SNAP
Joy Silberg, PhD - Nationally renowned child psychologist, who specializes in sexual abuse.
UNQUOTE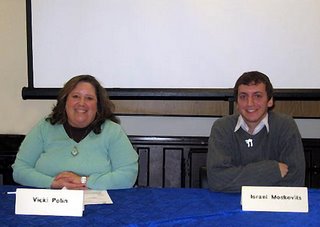 Vicky at a discussion. She is enjoying herself.
Sex Offender Registry And It Is An All Jew Cast [ 18 December 2009 ]
QUOTE
Sampling of Individuals on The Awareness Centre's Sex Offender Registry
The Awareness Centre is providing the documentary " Unorthodox Conduct" in the memory of Daniel Levin. The documentary was created by Canadian Broadcast Company in 1994 regarding the case of Rabbi Ephraim Bryks .

Our hopes is that it will be used as a way to educate the public on the devastating ramifications a case can have on an individual, family and in Jewish communities around the world. It's important to know what happens when a case of "alleged" childhood sexual abuse in the Jewish community is not dealt with properly from the beginning (bringing the case to law enforcement who is trained and educated in dealing with these cases).
UNQUOTE
They want more money to add more criminals to their list.

Sex Offender Registry II Gives Us Another 400 Of Them [ 18 December 2009 ]
QUOTE
Cases of Clergy Abuse and Other Trusted Officials

UNQUOTE
There are some 400 convicts and suspects on this list in an all Jew line up. I'll bet your wonderful newspaper didn't tell you the half of them.
Errors & omissions, broken links, cock ups, over-emphasis, malice [ real or imaginary ] or whatever; if you find any I am open to comment.



Email me at Mike Emery. All financial contributions are cheerfully accepted. If you want to keep it private, use my PGP Key. Home Page
Updated on 01/01/2013 16:16