South Africa
South Africa was first populated by the Bushmen. They were the first people, the Aboriginals. They were pushed out by the Hottentots circa 15AD. Then Bantu [ 3rd Century AD ] and Europeans circa 1500 AD came later. Boers pushing north met the Bantu coming south at Blood River and it ran red. Whence the name. Brits came too. They were interested in the gold and diamonds. So they did a take over. Principal actors were Cecil Rhodes and Lord Milner in the foreground with Jews financing and manipulating. This led on to the Boer War circa 1900. After the Second World War the Boers took over the government in 1948 and had a policy of Apartheid which is Afrikaans for separate development.
This made sense. It was a Godsend to Jews, to communist subversives, to trouble makers. They used it to incite discontent, as an excuse for trade boycotts all over. They also wanted [ nominal ] black majority rule. They won. The blacks thought that they were going to be better off. They were wrong. The vast majority are worse off. But now the BBC, like other traitors have gone quiet about the place except when they blame us for its decline.
There was also collusion between South African and Israeli politicians regarding uranium and nukes. See Israeli Nukes and South Africa The South Africans got enough bombs to make them dangerous. The Jews got enough uranium to make them very dangerous. But that is part of another story.
Jewish manipulation of Nelson Mandela and the African National Congress was instrumental in breaking the South African government. It was also instrumental in keeping the Jews' monopoly control of the diamond industry. So white people and blacks get poorer while Jews get richer.
You might feel that King Dalindyebo tells you enough to understand South Africa's progress toward the Stone Age. Hereunder is something about those involved but first an article from someone who knows the ground and the players.
Jews And Communism In South Africa
Jews from Lithuania went to South Africa en masse, infiltrated it and ruined it. Political manipulation is their forte.

Bring Me My Machine Gun
Is the Propaganda song sung by Jacob Zuma, a black thief, Rapist & president of South Africa, who is currently, in April 2016 perverting its Constitution.

Genocide Looms For White Farmers
Blacks are sincerely Racist. In fact they are tribalist too. They have been manipulated by Jews. cunning Jews to be sure but manipulated none the less. Joe Slovo was just one of them, part of the South African Communist Party, being used by rich Jews like Harry Oppenheimer, who ran De Beers.

Four Out Of Ten Murder Victims In South Africa Are White
QUOTE
It's business as usual in South Africa where the ANC has won a predictable victory in the first elections since the death of Mandela. It is unlikely there will be any big changes in a country mired by one corruption scandal after another, which is now the murder capital of the world and which is slowly sliding into economic chaos.

And one thing that will not be changing soon will be a relentless upward tick in the grim daily toll of murders of Whites by Blacks. Around 50 murders take place in South Africa every day and according to Genocidewatch around 20 of these are of Whites by Blacks — a grossly disproportionate figure for a minority who make up only nine per cent of the total population. This and the shrill, blood curdling threats from some Black politicians mean many Boers fear a White bloodbath in the future......

Ethnic hatred is a clear factor in these killings, with murder scenes often featuring such graffiti as "Kill the Boer" in blood. An unspeakable level of savagery is also a feature. Gruesome torture with pangas, electric irons or kitchen implements are frequent features and the average victim is elderly. On the day Mandela died, an 84-year-old Afrikaaner woman was robbed in her own home, held down and drowned in her bath........

You might think that with their own history of persecution and sensitivity to pogrom-style killings the Jewish community might be sympathetic. You would be mistaken. For organised Jewry is at the forefront of attempts to howl down, marginalise and discredit the White claims.

A good example came in the South African TV interview of the Red October founder where the presenter, an "anti-racist" Jewish judge began by telling the TV audience that the claims are exaggerated...........

Both the Africaans and the English-speaking media now give only the most cursory accounts of farm violence often omitting names, ethnicities or progress of investigations. (An exception is the current celebrity murder trial of Olympic athlete Oscar Pistorius [ because he is white - Editor ])

Prominent amongst these naysayers are the South African bureau of an international NGO called Africa Check and the university-based Centre for the Study of Open Democracy which are both largely Jewish-run and funded..........

It is worth remembering that the ANC was largely a Jewish creation and the senior ranks were dominated by Jewish communists who talent-spotted and groomed new talent like the young Nelson Mandela whose legal career owed everything to Jewish patronage (see "The role of Jews in South Africa since 1948" by Sam Davidson, The Occidental Quarterly, Summer, 2011). Jews also dominate the main opposition party, the Democratic Alliance. Both its current leader and previous leader and many of its shadow cabinet are Jewish......

Soon Johannesburg will be blessed with the opening of that ultimate international status symbol of Jewish triumphalism — it's own Holocaust Museum in a plush new building on Jan Smuts Avenue. It will be the third holocaust centre to be opened in South Africa and all schools will be required to visit it. You can bet that the opening ceremony will be a lavish affair.
UNQUOTE
Genocide is policy. So is pandering to Jews. They own the gold mines. They marketed Mandela as a world figure. Jews are setting up the New World Order.

ANC
Taking over the ANC but leaving locals as front men was the Jews' approach. It worked with the Bolsheviks in Russia and the Republicans in America.

ANC Prison Camp
When blacks turn nasty they turn very nasty. Their concentration camp, Quadro was run on scientific lines combining the nastiness of Soviet operations [ See Gulags In Pictures ] with South African style. Is this all public? Not very. The media are selling the idea that Nelson Mandela is a living saint. Quadro does not fit their story.

Apartheid
It is a crime under international law - until Jews are the perpetrators.

Lionel Bernstein
Was a Jewish political activist.

Boer War
Was ultimately about gold, diamonds and money. Who wanted war? Who wanted to be stinking rich? Who was pulling the strings? Who were the puppet masters? Mark Weber explains. Read this and wonder if the take over by MANDELA and his peculiar friends was an action replay.

De Beers
Are very rich, very greedy, very determined to stay that way and run by Jews on the make.

King Dalindyebo ex Wiki
Buyelekhaya Zwelinbanzi Dalindyebo a Sabata (born 1964; r. since May 1989), praise name Zwelibanzi, is a king of the abaThembu in South Africa.[1][2] .....................

In May 2005, he was indicted for fraud, murder, attempted murder, kidnapping and arson at the Mthatha High Court, and was subsequently convicted. In 2013, when Helen Zille was the Democratic Alliance (DA) party leader, the DA recruited Dalindyebo to join the party, despite his conviction, and at the time he shared the stage with Zille, Mmusi Maimane and Athol Trollip. The perception exists that he was recruited on the basis that he could bring votes to the DA in the Eastern Cape.[3]................

In October 2015 Dalindyebo was sentenced to 12 years in prison, and his membership of the DA was terminated.[5][6]

Arthur Goldreich
Another Jew, another communist, another enemy. From Lithuania?

Richard Goldstone
Told the world about the evil done by Jews during the Gaza Massacre. Jews were not amused.
Jews in South Africa
They took over South Africa. Was it in the news? No. Therefore it didn't happen. Right or wrong? Wrong! Look at who controls the news. Look at who controls the bits worth having, the diamond mines, the gold mines. Look where the outputs go, Amsterdam and Tel Aviv mainly.
Ronnie Kasrils
Jew from Lithuania. Got to be the ANC spy master. Anti-Zionist.

Brett Kebble
Crooked business man. Pandered to the ANC until he was topped.

Nelson Mandela
Was a subversive who wanted black majority rule. The Jews wanted a front man and he was the one they chose. He stayed clean as far as fraud was concerned, at least for public consumption, unlike his wife [ murder and thieving ]. How To Be A Good Communist by Nelson Mandela has a much less anodyne view of The World's Greatest Statesman.©

The Mandela Myth
Tells something of the truth, the sort his fan club want kept secret.

Winnie Mandela
Was married to Nelson Mandela, the world famous 'living saint' and a criminal in her own, very nasty right.

Murder Is A Growth Industry In South Africa Under Black Rule
QUOTE
[Pics] Gore: Very gruesome: Farm Murders in South Africa (from 1994-2007)

Date Posted: Monday 27-Apr-2009
[This is the original farm murders page which I created on the first incarnation of AfricanCrisis. I have converted it to reside on the new website. I have copied this across in April 2009 as part of my conversion program. I last updated this only in 2007. I have not done any new updates since even though farm murders continue and the last I heard from Adriana Stuijt was that the figure is now over 3,000. In the future, I will look at revisiting this page and seeing how we can update or enhance it. I expect, with the election of the ANC in 2009, that the focus will return to so-called "Land reform" and I do expect us to see more nasty things happening on our farms as the ANC now starts to follow in Robert Mugabe's footsteps and drives white farmers more aggressively off their land using legal or other methods. You haven't seen the last of the tragedy of South Africa's agricultural sector yet. Stick around. Jan]
UNQUOTE
The BBC is doing a major cover up on this one.

Obama And South Africa Parallels
South Africans opted for a slow suicide when they let Mandela and his communist handlers get away with it. Now Obama and HIS communist handlers are doing the same to America.

Harry Oppenheimer
Was a Jew and a major business man in South Africa who was bright enough to see the writing on the wall and pander to the anti-Apartheid mob. Thus he kept his business when they won. He may perfectly well have financed Slovo and other Jews in the South African Communist Party.

Oppenheimer
They control De Beers. They control the almost total diamond monopoly. They are criminals. They are political manipulators. They are Jews on the make.

Israel and South Africa
Chris McGreal tells about the collaboration and the nukes.

Cecil Rhodes
Was a great man in the founding of South Africa and southern Africa.

Rivonia Trial
Ten men of the ANC were tried for 221 acts sabotage designed to foment violent revolution. Four were communist Jews. Slovo was also a Jew and on the run.

Rivonia Trial II
Further comments on the accused and rather better than the Wikipedia's but then the agendas are different.

Joe Slovo
Was a Jew and a communist subversive from Lithuania. He was highly influential in the ANC and steered them to victory against people in South Africa. The media keep telling us that Mandela is a living saint but his Jewish controller was slipped into a grave very quietly.

In South Africa Immigration Feeds Corrupt Officials And Race Hate
Blacks in South Africa are Racist thugs with power. They have the power to abuse power. They use it against other tribes and against White Men too. It is getting nearer to all out Genocide.

South Africa Is A Violent Kleptocracy
QUOTE
The economy of South Africa is in a parlous state. Over 3,5 million jobs have been lost since a Black government took over in 1994. Unemployment is currently over 50%. This excludes the estimated 13 million illiterate foreigners streaming across the borders with the silent consent of government.

So as not to compensate the mainly incompetent Black workers with inflation related increments, government is feeding lies about the true inflation figures in the country, stating that it is only 6,5%...... The Rand has been depreciated by an average of 15% per annum since a Black government came to power in 1994. Last year however, the Rand collapsed and depreciated by almost 40% due to lack of confidence in a Black government........

The criminals control the streets. Should you phone the police, you don't know if they are coming to help you, or to rob you. The newspapers regularly report the atrocities committed by the police. They are committing a higher percentage of the crimes, than that which is committed by the population in general.

Cars are hijacked at gunpoint and their owners are very often brutally and senselessly murdered in the process.
UNQUOTE
Do the main stream media report this? Not a chance. They have an agenda. They want England inflicted with the same problems.

South African Explained
Andy McNab, who wrote Bravo Two Zero puts a view. It is wrong but of some interest because it shows that propaganda is effective.

South African Communist Party
Was run by Jews from Lithuania. Slovo was just one of them.

Helen Suzman
Jew and communist subversive. In Parliament. Worked the self righteous line.

Desmond Tutu
QUOTE
While acknowledging the significant role Jews played in the anti-Apartheid struggle in South Africa, voicing support for Israel's security concerns, and speaking against tactics of suicide bombing and incitement to hatred, Tutu is an active and prominent proponent of the campaign for divestment from Israel, likening Israel's treatment of Palestinians to the treatment of Black South Africans under apartheid. Tutu drew this comparison on a Christmas visit to Jerusalem in 1989, when he said that he is a "black South African, and if I were to change the names, a description of what is happening in Gaza and the West Bank could describe events in South Africa." He made similar comments in 2002, speaking of "the humiliation of the Palestinians at checkpoints and roadblocks, suffering like us when young white police officers prevented us from moving about".
UNQUOTE
Des is a black who did not like Apartheid in South Africa. Then it turned out that he still did not like Apartheid when Jews were at it in the Stolen Land called Palestine. He came in for a Nobel Peace Prize in 1984. Jews notwithstanding. They were not amused.

Umkhonto we Sizwe
Was commanded by Jews of the South African Communist Party and Mandela. The Jews had the brains and the international contacts to organize strategy, training, tactics, intelligence, weapons, explosives et cetera. Mandela was the front man for public relations purposes.

Roy Welensky
Welensky was a Jew from Lithuania just like Slovo. He helped destroy Rhodesia.

Jacob Zuma
QUOTE
He has four wives and he faced 783 counts of corruption:.... South Africa's next president
Imagine how you would react if Gordon Brown opened and closed his election rallies by bursting into a song called Bring Me My Machine Gun, swaying and jigging to the hypnotic chorus of this menacing ditty.

And how would you feel if the Prime Minister were alleged to be taking campaign money from Colonel Gaddafi; faced 783 counts of fraud, racketeering, tax evasion and corruption which somehow never came to court; and had been acquitted of rape while his fearsome supporters mobbed the courthouse? Then ponder how you would despair if, despite all these things, Mr Brown's party was certain to win the election whatever he did or said. If you can picture all this happening here, then you have an inkling of the horrible process South Africa is now going through. Except it is much, much worse.
UNQUOTE
My offering on Zuma, South African President Gets Away With Fraud As Well As Rape was much kinder but Peter Hitchens has been there and seen just how awful it is. He gives Nelson MANDELA a soft ride though.
Read about the results that the Jews have achieved but notice that De Beers, their firm carries on regardless. It is Brits and Boers getting screwed.
African Crisis
A Rhodesian tells it like it is - unlike the BBC and the Zionist controlled media generally.

Rape In South Africa
South Africa is the rape capital of the world. South Africa is full of blacks. Import blacks, import rape. QED. That is what Western governments do. Feminists keep very quiet about it because they are Lenin's Useful Idiots.
Ruined Farm You Bastards will stay poor
You might feel that if a man helped his father and grandfather make a farm out of nothing he might feel bitter about having it stolen from him and even more so if the thieves ruined it. See the photos of the destruction and then believe the title of this piece.

South Africa Abandoned
The anti-Apartheid activist sees the mess they have made of it and bails out.

Wonderful Multicultural South Africa
Blacks have taken the farms that those nasty white men created. Oh how wonderful. They are making such a good job of ruining [ sorry - running ] them.
PS The BBC won't bother to tell us though.

Communist Plans & Leaders for South Africa
This is paranoia, isn't it? No! The BBC would have told us if there were a problem, wouldn't they? No! The Beeb is run by and for communists, traitors and homosexuals. So is much of the media.

SHIVA NAIPAULS AFRICAN JOURNEY
A Hindu tells us what it was like in 1995. It was bad and then and much worse now.

South Africa Shows The Way
It still is showing us the way. That is why the BBC and other communist subversives keep quiet about it. They broke the government. Now others are reaping the whirlwind.

South Africa And Football
QUOTE
For the next five weeks get used to Sepp Blatter being your president and Jacob Zuma sitting on the bench as a bit-player whose government is legally bound to perform the international football federation's every bidding. FIFA's grip [ see Football ] on South Africa was cemented with 17 key guarantees the government had to agree to in order to host the world's biggest sporting event [ The World Cup ]. A senior government official said: "FIFA are a bunch of thugs. Not even the UN expects you to sign away your tax base. These mafiosos do." The South African Revenue Service (SARS) has been forced to accede to an extraordinary "tax bubble" around "FIFA-designated sites" which exempts FIFA, its subsidiaries, and foreign football associations from paying income tax, customs duties, and value-added tax (VAT).

As a consequence South Africa, which has already spent R63 billion, will stand to lose tens or possibly hundreds of millions of rand in potential revenue. According to a document compiled by SARS, by the end of April R613 million worth of goods had been imported into South Africa for the tournament. Rebates of R118 million were paid out on those imports in line with special tax measures for the World Cup. The National Treasury says it is unable to provide estimates of the amount of foreign currency brought into and taken out of SA, but said one of the guarantees was "unrestricted import and export".

SAFA has also had to provide FIFA with two private jets, two limousines, 300 cars, half a dozen buses, and "chauffeurs who speak fluent English and are thoroughly familiar with the area". FIFA has hit pay dirt. The money is rolling into its Swiss bank accounts and FIFA secretary-general, Jerome Valcke, boasted this week that "we have increased our income by 50% since 2006 in Germany to 2010 in South Africa". FIFA – a registered "not-for-profit" organisation – has banked a record R25 billion in media and marketing revenues. In March, the Swiss parliament upheld FIFA's tax-free status in Switzerland. The World Cup is expected to contribute an additional 0.5% to the country's gross domestic product.
UNQUOTE
South Africa wanted to be noticed. FIFA wanted to be rich. Who runs FIFA? Sepp Blatter is the president and grossly incompetent/corrupt/light fingered [ delete to taste ]
---
Racism And Xenophobia In South Africa [ 6 December 2009 ]
QUOTE
Prior to 1994 immigrants from elsewhere in Africa faced discrimination and even violence in South Africa, though much of that risk stemmed from the institutionalised racism of the time rather than xenophobia. Post 1994 and democratisation, and contrary to [ whose? ] expectations, the incidence of xenophobia increased. Between 2000 and March 2008 at least 67 people died in what was identified as xenophobic attacks. In May 2008 a series of riots left 62 people dead; although 21 of those killed were South African citizens the attacks were apparently motivated by xenophobia.
UNQUOTE
Racism is what white men do to blacks. Xenophobia is what blacks do to blacks. It is also what blacks do to people who have stayed on but the media do not tell us about that. We might get the wrong idea.
PS Notice that racism xenophobia is a growth industry there under the wonderful new multiracial government, just like the corruption.
PPS Jacob Zuma beat all 783 corruption raps so he must be very innocent or very important.
PPPS Nelson Mandela is a communist party appointee just like Brown and Blair
South Africa Shows The Way - Black Police Rape A White Woman [ 26 November 2009 ]
QUOTE
Cops in uniform 'gang-raped me'

Johannesburg - A mother-of-three was allegedly "repeatedly" raped by two uniformed policemen in Kempton Park in the early hours of Sunday morning. When he heard about it, Martie Olivier's husband, Sarel, went to the Kempton Park police station and assaulted various police officers on duty before being brought under control. He said they were unable to lay a charge of rape later that day because the police refused to take their statements............

The couple laid charges of rape, assault and bribery on Monday.
UNQUOTE
They can so they do. Jews of the South African Communist Party like Joe Slovo used Nelson MANDELA and the ANC to incite hatred and this kind of problem.
South Africa Dealing With Illegal Immigrants [ 22 November 2009 ]
QUOTE
Zimbabwean migrants in search of employment in South Africa are facing persecution at the hands of local people who are blaming them for taking their jobs. The persecution, which forced about 2,000 migrants to seek refuge in a rugby stadium, began on Tuesday when the migrants' shacks in a farming community in De Doorns were levelled. Local residents say they are tired of competing with Zimbabweans for space and jobs..........

Last year violence unleashed on migrants on the outskirts of Johannesburg, the commercial centre, left at least 62 people dead, forcing the UN refugee agency to move many migrants into relief camps. Aid groups have dubbed Tuesday's attacks xenophobia, but government officials say it is a labour matter that local farmers shouldn't favour one nationality over another.
UNQUOTE
People in South Africa have problems; they deal with them. Notice that this is called xenophobia. If Englishmen do this sort of thing it is called Racism and we get compared to Nazis. But SA was taken over by Jew

s using Nelson Mandela as a front man so it is completely different.
Jews Not Controlling Zuma [ 28 April 2009 ]
At all events that is their story. They still own the mines. Pandering to blacks while controlling the money is the name of the game. It means bribing a few blacks. That is the easy bit.

South Africa Is World Leader With HIV Its Leading Growth Industry [ 3 April 2014 ]
Nearly one in four young black women have got it.
White Woman Raped, Stripped Naked, Thrown In Street Then Attacked By Blacks - South Africa Today [ 20 October 2014 ]
The BBC was very eager to market Nelson Mandela, because Mandela was a black Marxist. The BBC is very keen on ignoring what blacks are doing to people because the BBC is run by Marxists who hate England, who hate Western Civilization, who are Racists, but of course anti-English Racists.
Black Police Arrest Young Women To Rape Them [ 31 January 2015 ]
QUOTE
A shocking report has revealed how large numbers of policemen in South Africa are 'regularly' arresting young women in order to rape them.
The 'Broken Blue Line' conducted by the Johannesburg-based Institute of Race Relations, investigated the extent in which police officers in the country plan and execute serious and violent crimes such as murder, rape, and armed robbery.
And it drew a disturbing conclusion: that police involvement in serious and violent crimes, including rape and murder, were a 'pattern of behaviour' and not isolated incidents.
UNQUOTE
The Institute of Race Relations is very tactful, not saying that it is very largely black police who are the perpetrators. They prefer murder to rape. This not to say that English police aren't bent as well.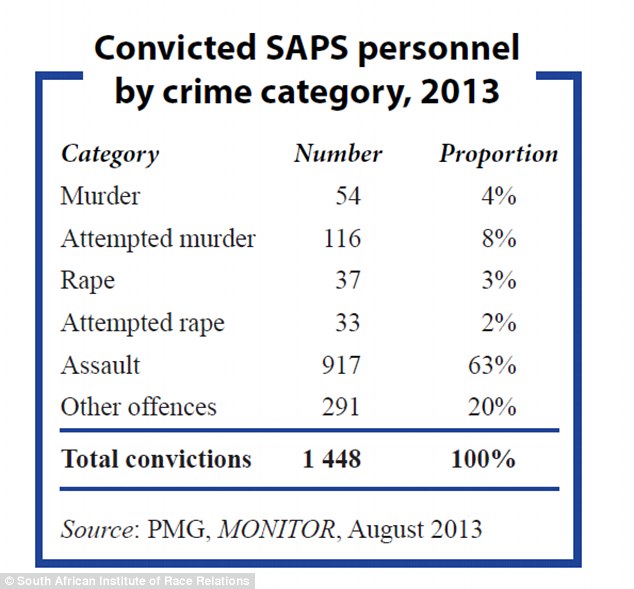 These crimes are just some that made it into the newspapers.
Black Cannibal Ripped Man's Heart & Ate It [ 4 February 2015 ]
QUOTE
A businessman who ripped a man's heart out and ate it to 'prove he was not gay' has apologised to his victim's family for 'exceeding the boundaries of self-defence'.
Andrew Chimboza, 35, who runs a window tinting business, pleaded guilty to murdering Mbuyiselo Manona, 62, in the South African township of Gugulethu last year.
He told police after he was arrested that he gouged out Mr. Manona's heart and ate it [ raw ] as he lay bleeding to death 'to show him that I am not a moffie [gay]'........
He said: 'I do not know why I ate it and I accept my actions were wrong and exceeded the boundaries of self-defence.'
UNQUOTE
The Jews controlling Nelson Mandela, the Jews running the South African Communist Party want blacks running the country. This is just one typical result.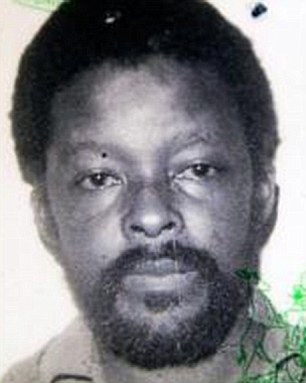 I think we must accept that he was very sincere; further that his instincts are sound regarding sodomy.
Cameron imports millions like him because Cameron destroying England. Cameron is a Traitor.
Genocide In South Africa - A Mainstream Paper Tells The Truth [ 20 February 2015 ]
The National Review told us about The End of South Africa. This is fairly remarkable. The Main Stream Media are under almost total control of Zionist crazies. They did a huge marketing job on nice little Nelson Mandela and the horrors of Apartheid. Then most of them made off to Israel, to inflict Apartheid on Palestinians. The Jews can see the funny side of the damage they did with malice aforethought as
South Africa reverts to the Stone Age - see Jews Sneer At White Victims Of Genocide.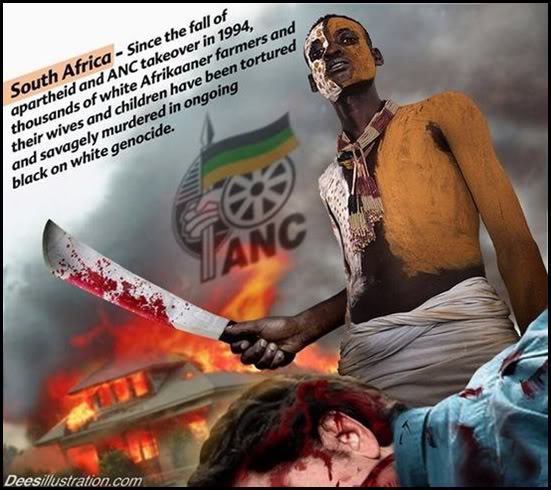 South African Murder Rate Achieves All Time High [ 29 March 2015 ]
QUOTE


A BBC Graph well before the all time high.
Events in the post-Mandela Rainbow Nation playing out as expected...........
Don't worry though, the South African police know the problem. It's the guns!
Gun Free South Africa's Adele Kirsten has welcomed amendments that may see tighter firearm laws implemented.........

[ SA's Murder Rate at An All-Time High, by Siyabonga Sesant, Eyewitness News, arch 25, 2015 ]
Of course, whites aren't the only, or even the primary victims of this increase in violence, though they are certainly the ones most often deliberately targeted. All races are the victims of South Africa transforming from a First World nation and a bastion of the Free World into just another Third World dystopia plagued by corruption.
UNQUOTE
They did major coverage of Oscar Pistorius for a reason; to make us think that trigger happy Boers are the problem. They lied but then that is what the Main Stream Media are about, Propaganda. South Africans need the Armed Citizen more than ever.
70 Thousand White People Murdered In Modern South Africa [ 19 January 2016 ]
QUOTE
Since Nelson Mandela and the communist African National Congress (ANC) took over South Africa, more than 70,000 whites have been murdered and untold numbers have been robbed, raped and tortured.

But you will not hear about this in the Western Media, which fawns over the black terrorists who now run the once-prosperous country.

Claudia Bryan is a South African activist living in London. Her grandmother owned a bakery in South Africa. One day six blacks entered the bakery and gang-raped her. They then tried to shoot her. The gun jammed. In anger they gang raped her again and the 70-something woman died. Robbery was not the motive...........

Every white person I met feared for his physical safety. Crime—murder, robbery and rape—is rampant. South Africa has the highest rape rate in the world and the second highest murder rate, making the country more dangerous than most parts of Iraq.

Most victims and perpetrators are black. Rapes are rampant in black schools, and parents often accept a small sum of money as financial compensation for their raped daughter rather than going to the corrupt or incompetent police......

With his presidency nearing an end, Barack Hussein Obama may find his legacy in Africa. On the Dark Continent, Obama has done more to kill and impoverish black people and to expand Western and Zionist power than any American leader in recent memory.
UNQUOTE
Jews from Lithuania such as Joe Slovo used Nelson Mandela as their front man with the whole hearted connivance of the BBC. The results are a disaster for people, black or white but the Jews carry on running De Beers, making money, getting richer. Harry Oppenheimer financed the ANC for that reason. Recall too that Obama is tool put into power by the Puppet Masters.

Could they, just possibly be Racists?
South African Bulletin 2016 [ 1 March 2016 ]
QUOTE
AN ORGY OF VIOLENCE
Bullet proof vests in the suburbs; universities trashed; rector's office petrol bombed; artifacts burnt; farmers murdered; land grabs increase; "burn the building and those inside": ANC Member of Parliament; highway shootings and robberies; 87-year- old bludgeoned in home - twice; restaurateur shot dead; police report 7 000 firearms "stolen or missing"; panga attack severs B.Sc. student's hand.

Just another week in a blighted South Africa!........

The ANC has reaped what it has sown.
UNQUOTE
Is it really that bad? Yes, if not worse. Notice that white farmers are getting treated shocking bad while the Main Stream Media ignores murder, torture, robbery etc. However De Beers carries on without any problems. Businesses owned by Oppenheimer & other Jews collude with the South African Communist Party; they are all Jews together.

South African Lefties Driven Off Their Farm By Foreign Blacks [ 12 August 2016 ]
QUOTE
The two South African leftists who opened their farm to hundreds of Central African invaders who had fled "xenophobic violence" in that country, have now completely abandoned their farm after an Indian-origin High Court judge refused to rule in their favor.

Andrew and Rae Wartnaby had offered the Africans shelter on their farm in July 2015, but, as reported earlier, their guests then just seized the land and refused to move. After suffering violent threats from the "refugees," the Wartnaby couple moved off the farm while they tried to resort to legal means to evict the Africans..............

In many ways, the Wartnaby experience expresses in microcosm white liberal attitudes and their inevitable consequences when dealing with illegal nonwhite invaders.

It also demonstrates once again that the current "refugee" invasion of Europe can only end in violence: either when Europeans force them to leave, or when the settled invaders turn on the liberals who have let them in.
UNQUOTE
Perhaps this twerp is learning the difference between Altruism and Pathological Altruism but I doubt it. Don't laugh too much because the same kind of thugs will overrun England and in fact are being incited to do precisely that by corrupt politicians, the tools of the Puppet Masters, the Zionist crazies.

Black Thieves Throw South African Farmer Alive To Crocodiles [ 12 August 2016 ]
These are kind of thug that the Lunatic Fringe are intent on importing to England on the grounds that they are victims of nasty White Man.

Soweto Riot Anniversary [ 24 August 2016 ]
QUOTE
This is the 40th-year anniversary of one of the events that is said to have brought black rule in South Africa: the Soweto riots of 1976............ The "uprising" is portrayed today as heroic resistance to the Apartheid regime's decision to make Afrikaans rather than English the language of instruction in black public schools........

The instigating role of the Anglican Church in the riots is well established but not well known. Since the early 19th century, the English churches in South Africa have been hostile to the local white population, especially the Afrikaners, whom they looked down on as bumpkins.........

In 1940, the Anglican Church sent a young priest to South Africa named Trevor Huddleston [ A nominal Christian ]. He was a radical socialist with Third-World, anti-white sympathies. He was also an outspoken foe of Apartheid, and taught blacks Marxism of a kind that was an early form of "liberation theology." Nelson Mandela said of him: "No white person has done more for South Africa than Trevor Huddleston.".

By 1976, many of the black teachers and principals in Soweto, the black township associated with Johannesburg, had been educated in the British-controlled church education system. Some were also trained at the new universities set up in the tribal homelands, where they imbibed American black nationalism and learned about Afro-Marxist movements such as FRELIMO (Mozambique Liberation Front), SWAPO (South West Africa People's Organization), the MPLA and Robert Mugabe's ZANU (Zimbabwe African National Union). Many of these movements were backed by China and the Soviet Union..........

Today the black-run SABC shows more wisdom than its white predecessor did. It no longer broadcasts riots and school arson. As a top official explains, "when they see cameras, they burn."
UNQUOTE
Ideas have consequences. Primitive Christianity is much like basic Communism, the bit that come before the hate and mass murder. That is why it was able to do so much harm among black savages. It was seized on and used by the South African Communist Party, which is to say Jews from Lithuania like Joe Slovo. They selected Nelson Mandela as a front man because he was black. It worked. The consequences are with us yet.
PS More at http://www.praag.org./

South Africa Pulls Out Of International Criminal Court [ 23 October 2016 ]
QUOTE
South Africa said on Friday it was quitting the International Criminal Court (ICC) because membership conflicted with diplomatic immunity laws, dealing a new blow to the struggling court and angering the political opposition..........

The United Nations on Friday confirmed receipt of South Africa's withdrawal from the ICC, which will take effect one year from Oct. 19, spokesman Stephane Dujarric said, making it the first country to quit the Rome Statute.......

The announcement puts new pressure on the world's first permanent war crimes court, which has had to fight off allegations of pursuing a neo-colonial agenda in Africa, where all but one of its 10 investigations have been based. Burundi's leader this week signed a decree to leave the ICC, and Kenya's parliament is considering following suit.


UNQUOTE
Prosecuting blacks only is adequate proof of corruption. They could and should have charged Blair, Brown, Bush, Cameron, Obama & Netanyahu for a start. It can be done, in fact it has - see Blair Convicted In Absentia. Blair Is A War Criminal. Politics matter more than justice or even law.

Racism In South Africa - Genocide In South Africa [ 28 October 2016 ]
QUOTE
Since the end of Apartheid in 1994, there have been anywhere from 3000 to 6000 White farmers brutally murdered in savage attacks across South Africa, with a total of 40 000 White farmers remaining alive in the country today. There were around 60 000 White farmers at the end of apartheid, and the decline is attributable to farmers who either traded in their passport and emigrated to a safer country or traded in the pitchfork and chose a safer occupation, as well as to the murders themselves. Often, these attacks don't involve robbery or any sort of economic motivation, and many times nothing is stolen at all. The motivation is clearly racial bloodlust—torture, rape and other forms of humiliation are commonplace. Being a White farmer in South Africa is statistically one of the most dangerous jobs on Earth, and you're twice as likely to be murdered as a White farmer than as a police officer in South Africa. The rate of murder victimization for commercial farmers in South Africa is an astounding 290 per 100 000—to put things in perspective, the murder rate in Detroit for 2015 was 44 per 100,000.

The ruling ANC party denies any racial motivation and dismisses these attacks as normal robbery-motivated murders. [ It lies - Editor ].
UNQUOTE
The Main Stream Media & politicians put a lot of effort into abusing White people in South Africa. They marketed White Guilt. So Boers voted for black rule; they have a sense of decency, misguided as it is. The same manipulators are inciting Black Hate; that was much easier. Now the media are suppressing the truth while Her Majesty's Government imports thousands or millions of blacks and other Third World aliens with the enthusiastic collusion of Her Allegedly Loyal Opposition. They are creating Trojan Horses to destroy England & Western Civilization.

South African President Setting Up Genocide [ 5 March 2017 ]
QUOTE
South African president Jacob Zuma has called for "black unity" against whites in order to force whites off land in that country during 2017. Making the call—to loud applause—during a speech last Friday in the parliament building in Cape Town (a physical building built during the era of white rule), Zuma called for support of a constitutional amendment to allow land expropriation without compensation.

A constitutional amendment of that extent would require a two-thirds majority in the parliament, something that would only be achievable by an alliance between the ANC and the viciously anti-white "Economic Freedom Fighters" (EFF) party, led by former ANC youth leader Julius Malema.
UNQUOTE
Zuma is grossly Racist. Zuma is deeply corrupt. Malema is worse. South African politics show very clearly what is it store for England and the rest of Western Civilization if Her Majesty's Government and other governments carry on importing Third World aliens with malice aforethought. It is Ethnic Fouling followed by Genocide. Our politicians are being manipulated by the Deep State, which in practice means the Puppet Masters or Zionist crazies.
PS The BBC & The Guardian suppress the truth but then they are Propaganda machines run by Marxists.

Black South African MP Says Bury White Farmers Alive [ 29 March 2017 ]
QUOTE
A member of parliament for South Africa's ANC party has called for white famers to be "buried alive" during a parliamentary debate on the ongoing genocide being perpetrated against white people in that country by blacks. According to a statement issued by the minority rights activist group AfriForum, the outburst was made by ANC MP Duduzile Promise Manana during a parliamentary sitting on farm murders.

While a member of the white Freedom Front Plus, Dr. Pieter Groenewald, was addressing the parliament on the topic of the ongoing genocide, Manana shouted: "Bury them alive!".............. Groenewald said in his speech that the "world's average murder rate is 7 per 100,000, while in South Africa it is 33 per 100,000. For white farmers in South Africa, it is 133 per 100,000.".........

It was while recounting these horror stories that the ANC shouted out "bury them alive," to laughter from the government benches.
UNQUOTE
Is the black Racist or grossly racist? Are the blacks running South Africa grossly racist too? [ HINT: YES ]. Is the BBC telling us the truth about South Africa or anything much else for that matter? It is a Propaganda machine run by the Enemy Within; it colludes with Her Majesty's Government in setting up the Trojan Horses and filling them with black free loaders in order to create a similar situation in England.

South African President Is A Grossly Racist Black Thief [ 29 March 2017 ]
QUOTE
Making the call—to loud applause—during a speech last Friday in the parliament building in Cape Town (a physical building built during the era of white rule), Zuma called for support of a constitutional amendment to allow land expropriation without compensation.

A constitutional amendment of that extent would require a two-thirds majority in the parliament, something that would only be achievable by an alliance between the ANC and the viciously anti-white "Economic Freedom Fighters" (EFF) party, led by former ANC youth leader Julius Malema.
UNQUOTE
Racism is policy in South Africa in the same way as it is with Jews in the Stolen Land that they call Israel. It is allowed in England as well - if the perpetrators are blacks, Jews or other undesirables.
PS Zuma is a rapist as well as a thief.

South African Blacks Burn Down Farmers' Houses After They Got Bail In Malicious Prosecution Case [ 13 May 2017 ]
QUOTE
Several farms and houses belonging to whites in the South African town of Coligny (North West Province) have been attacked and burned by mobs of blacks after a local court released two white farmers on US$360 bail after they were falsely accused of murdering a 16-year-old black thief.

The two white farmers—Pieter Doorewaard, 26, and Philip Schutte, 34, were yesterday granted R5,000 bail each by the Coligny Magistrate's Court after local black police pressed murder charges against them—because the black victim, Matlhomola Mosweu, jumped off the back of their pickup truck and died of a broken neck while being driven to the police station. Doorewaard and Schutte had carried out a citizen's arrest when they had caught Matlhomola stealing crops on their farm on April 20. Despite there being no evidence of any foul play, the police, in conjunction with the local black prosecutor, decided to press murder charges against the two whites, who have spent the last two weeks in jail awaiting a court appearance. The court took a dim view of the charges, and ordered the two released on the low bail because, as the Magistrate said, there "was not yet enough evidence to link the two men with the witness testimony." This act was however enough to cause local blacks to erupt in an orgy of violence against all whites in the area.
UNQUOTE
It is a repeat of the Los Angeles Riots & the Watts Riots in America. They happen in England too e.g. the Brixton Riots among others. Riots happen because Her Majesty's Government import Blacks with malice aforethought then incites Black Hatred. Americans are different; they had blacks inflicted on them by Jews. See The Secret Relationship Between Blacks and Jews on the point.
PS Notice what the Main Stream Media are saying about this, which is very little. The media are criminal operations inciting racial hatred contrary to Part III of the Public Order Act 1986.

Cannibalism Thriving In South Africa [ 28 August 2017 ]
QUOTE
Hundreds of black African cannibals have engaged in huge feasts on human flesh this year in the South African town of Estcourt, KwaZulu-Natal Province, a local government official has admitted—a day after four locals appeared in court charged with murder and conspiracy. According to a report in South Africa's News24 news service, more than 300—out of a village of only 971—have admitted to knowingly taken part in cannibalistic feasts this year under the orders of a local witch doctor...................

Later, ward councillor Mthembeni Majola, who held a meeting at the Esigodlweni community hall on Monday morning, said that around 300 residents had confessed to visiting Mbatha, and knowingly eating human flesh that he gave to them. He said that there were around 700 people at the meeting where about 300 residents confessed to knowing Mbatha had human flesh and confessed to eating it. Majola also revealed that the cannibalism "was not just limited to Estcourt" and that Mbatha "had links across the Uthukela area."
UNQUOTE
This happened among Zulus in Natal. Who supplies the bodies? Digging up graves, eating the long dead sounds unhealthy.
Errors & omissions, broken links, cock ups, over-emphasis, malice [ real or imaginary ] or whatever; if you find any I am open to comment.



Email me at Mike Emery. All financial contributions are cheerfully accepted. If you want to keep it private, use my PGP Key. Home Page
Updated on Thursday, 26 October 2017 13:28:25