Wearing spivvy shoes, a tight blue suit and a crooked smile, the wide boy of European politics [ Tendentious or what? ] strides into a room in the Dutch parliament building, flanked by armed security men.
He holds up a fat paperback entitled Anger, full of stories of ordinary folk worried about the kind of issues that swept Donald Trump to power in America.
'Our people have been betrayed by politicians and want a new Patriotic Spring,' he tells his audience, who nod enthusiastically.
This is Geert Wilders, the 53-year-old of part-Indonesian heritage with peroxide blond hair, who is turning Dutch thinking on its head. He is described by some as a rabid racist and has been convicted for inciting discrimination.
Once temporarily banned from Britain as 'persona non grata' by the Labour government, he lives under threat of assassination for his fiercely anti-immigration stance, and only this week tried (unsuccessfully) to plaster 'Stop Islam' adverts over Holland's trams.
He is in such danger from Left-wing activists and Islamic militants that he often wears a bullet-proof vest and is guarded at a safe house round the clock [ His fault or theirs? ]..............
But one thing is certain: if Wilders wins the election but cannot take power, it will surely enrage those Dutch people who — rightly or wrongly — believe they have no one else to turn to.
UNQUOTE
The Mail is Racist rag aimed at honest working men, lots of whom are not stupid enough to believe it. Read the comments to know.
Blacks Carry On Rioting In Paris, France - Daily Mail Is In Propaganda Mode [ 13 February 2017 ]
QUOTE
A 16-year-old [ black ] boy ] boy saved a young girl from a burning car moments after it had been firebombed by rioters in Paris protesting at the alleged rape of a man by police officers. The incident happened in the northern suburb of Bobigny, near Aulnay-sous-Bois shortly after dark last night. According to local police, 2,000 youths took to the streets before the car with the young girl inside was attacked...........
In 2005, the death of two teenagers who were electrocuted while hiding from police in an electricity substation sparked weeks of riots in France..........
After his visit, the French President tweeted that the victim had 'reacted with dignity and responsibility', and trusted that justice would be served.
UNQUOTE
Blacks riot again. The Daily Mail side steps the truth by praising a black who rescued a child. See the comments to know that the readers aren't stupid enough to believe the Mail's Party Line or, come to that pay money for it. Notice Monsieur le President personally snivelled to an alleged victim. Ethnic Fouling In France is government policy; this is one result.
Marine Le Pen Cynically Uses Black Rioting To Garner Votes Alleges Daily Mail [ 14 February 2017 ]
QUOTE
French National Front leader Marine le Pen cashes in on a week of rioting in Paris following 'truncheon rape' scandal by blaming unrest on years of poor government as she seeks a boost in polls
UNQUOTE
The Daily Mail is in propaganda mode, feeding us its real Party Line, claiming that blacks are victims not perpetrators. Notice that the rioters are "youths", not blacks or North African barbarians. The Mail is marketing White Guilt. The fact that Hollande, the French president/prime minister/whatever went to the alleged victim, to snivel to him as a propaganda move is duly ignored.
Daily Mail Abuses Patriotic Englishmen [ 14 February 2017 ]
QUOTE
Murderer who got away: 20 years ago today, the Mail accused five men of killing Stephen Lawrence. Two have been convicted, one's in jail on a drugs charge and a 4th is on the run. But the 5th still brazenly walks the streets where he committed his crime
Luke Knight photographed strolling two miles from where Stephen was stabbed 40-year-old is unrecognisable from brute who smirked at claims he was involved Stephen was killed in unprovoked gang attack as he waited at a bus stop in 1993 Two members of Eltham gang - Gary Dobson and David Norris - both serving life A third, Neil Acourt, is awaiting sentencing for masterminding a £4m drugs ring His brother, Jamie, is wanted for links to drugs crimes and is on the run in Spain
UNQUOTE
The Daily Mail is a Propaganda machine driven by malice, inciting Race hatred contrary to Part III of the Public Order Act 1986 while its owner brazenly walks the streets of England pretending that he is not Domiciled in the UK for tax evasion avoidance purposes. The Mail has a much more relaxed view of the Pakistani Murderers who tortured and murdered Kriss Donald, a Scots lad. Ditto for Richard Everitt who was English.
How America's 'first black middle class village' was destroyed to make way for Central Park: Community of African American property owners was flattened and flooded to accommodate growing Manhattan population
[ 10 March 2017 ]
The headline is verbatim while the
Mail
is in anti-White propaganda mode again. The book mentioned was written by a Jew, another hostile.
Daily Mail Marketing Homosexuality [ 4 April 2017 ]
None of this nonsense about being a family newspaper. The Daily Mail is another Propaganda machine, just as corrupt in its way as the BBC. It markets its output to decent working people in order to pervert them. The agenda is usually hidden but then this one made a front page splash.
Daily Mail Admits Sort of That Stockholm Murderers Were Islamic [ 8 April 2017 ]
No they weren't "lone wolves" or lunatics; they were vicious Third World criminals deliberately imported by fools.
Daily Mail Admits That Stockholm Terrorists Are Third World Aliens [ 9 April 2017 ]
The Daily Mail is part of the Main Stream Media conspiracy to pretend that vicious Islamic immigrants are good for us, that they are not being inflicted on us to cause Ethnic Fouling followed by Genocide. They claim that one of the police involved was Islamic and that Donald Trump is a liar - routine nonsense but then the Mail is a Propaganda machine. Its readers aren't fool enough to believe it.
Daily Mail Implied That Melania Trump Was A Whore & Comes Unstuck [ 14 April 2017 ]
The Daily Mail is a Propaganda machine that hates Donald Trump, just like the rest of the Main Stream Media. But Don has the money to sue them all the way to the Lords. He could have done it the other way, by hitting them with a few cruise missiles. They got lucky.
Black Alien Can Sing Alleges Daily Mail In Propaganda Mode [ 18 April 2017 ]
The Mail's readers are not stupid enough to believe it. One even said that the part Jew, Cowell must be paying a fortune in bribes for the publicity. Are we becoming a nation of cynics - or better informed?
Ministers Want 'EU Border' To Block Illegal Immigrants Alleges Daily Mail [ 15 May 2017 ]
QUOTE
Record-breaking numbers of migrants are crossing the Mediterranean from Africa to Italy, prompting fears that authorities are powerless to stop another crisis. [ They aren't of course - they are allowing it - Editor ]
Despite a huge political drive to prevent asylum seekers risking their lives on the deadly crossing from lawless Libya, the number of arrivals has surged by 42 per cent already this year.
Some 44,222 asylum seekers have reached Italian shores this year, compared to 31,205 at the same time last year...........
Migrants yesterday told the Mail how armed gangs in Libya routinely raped women while effectively keeping migrants as slaves, before murdering those deemed unfit to travel [ That makes sense - Ed. ]...........
The majority of migrants are rescued by fishermen or charity-run vessels – accused of operating a 'taxi service' – before being taken to Sicily by the Italian coastguard or Frontex, the EU border force.............
He said three passengers, including his younger sister, died on the crossing, while a smuggler aboard the vessel shot one asylum seeker who had fallen into the sea. 'They used me and others as slaves and wouldn't feed us for two days. Every week they kill people depending on what country they came from,' he said..........
Dr Conor Kenny, who works for the Médecins Sans Frontières charity, said: 'It has been brutal in recent weeks. There will be many more fatalities, I have no doubt.'
UNQUOTE
You might imagine from reading this article from the Mail that it doesn't know that this flood of blacks and Arabs uses collusion by the European Union and national governments. In fact it does know. Various Criminal Charities using Altruism as an excuse and funding from George Soros are actively involved in Illegal Immigration. One of them is Médecins Sans Frontières. Another criminal 'charity' is Save The Children, run by Helle Thorning-Schmidt, lately the prime minister of Denmark. She is, naturally above the law.
Daily Mail Markets Anti-White Hatred After Police Kill Black Criminal [ 15 May 2017 ]
QUOTE
Police are facing mounting anger in Connecticut after they shot dead an accused teen car thief and allegedly left him handcuffed and dying on the street. A video that appears to show 15-year-old Jayson Negron moving after he was shot by a police officer in Bridgeport has been released and family - and they say it proves cops lied about the incident. Officers also left the teen's body uncovered in the street for hours after he allegedly rammed a cop with his 'stolen' car after a chase and then was shot...............
Bridgeport Officer James Boulay shot Negron after cops say the teen hit the officer with a stolen car on May 9. Police pronounced Negron dead at the scene. His friend and passenger Julian Fyffe, 21, was also shot but survived.
UNQUOTE
The 'Daily Mail' tells us about a 'stolen' car. Does the 'Mail' know better or is 'it' inciting 'Blacks' to 'racial hatred' contrary to 'Part III' of the 'Public Order Act 1986'.
Daily Mail Marketing Jo Cox As A Saintly Victim [ 7 June 2017 ]
QUOTE
The widower of murdered MP Jo Cox, Brendan, has described the moment he heard about her death as like a 'grenade going off inside me'.
Mother-of-two Mrs Cox, 41, was shot and stabbed by [ allegedly ] neo-Nazi Thomas Mair in her Batley and Spen constituency on June 16 last year, days before the EU referendum. Mair was later handed a whole-life prison sentence for the Labour MP's murder.
UNQUOTE
Jo Cox was killed by Tommy Mair, a Patriot, a Nationalist and, latterly a political activist. Anyone who feels that Tommy is a sound sort of chap, whose instincts are on the right lines is likely to be accused of being a Far Right extremist along with any one who votes to the right of Labour. In fact Cox was a ratbag on the make; she used the Charity industry for the sympathy vote, foreign travel etc. Being with Oxfam, a left wing operation was how she wormed her way into politics and into Parliament but had absolutely no sympathy for English girls being raped by Pakistani Perverts. Her old man is a wrong one too; he worked for Save The Children, a criminal organisation until he was kicked out/resigned/invited to take his services elsewhere - see Her Husband Resigned After Women Complained; putting himself about?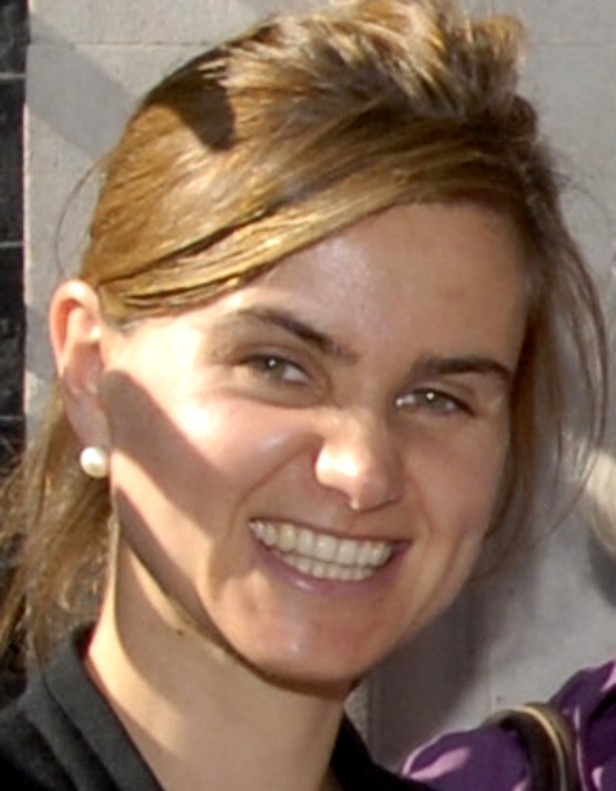 Notice the way she bares her teeth when she is playing to the camera.
The Slaves Who Helped Make A Tory MP A Millionaire [ 19 June 2017 ]
The Mail is in propaganda mode again; it does not mention who imported the blacks into the Americas. Louis Farrakhan does; he knows because he did the research. See the results in The Secret Relationship Between Blacks and Jews published by the Nation of Islam. It was Jews on the make - as usual. Who freed the slaves? It was an Englishman, called William Wilberforce. It is a matter of fact that the Royal Navy lost more men on the West Africa Station than they did in two world wars.
PS The headline is verbatim.
Daily Mail Alleges That Hate Crimes Soar By 500 Per Cent In Manchester [ 23 June 2017 ]
QUOTE
Islamophobic crimes in Greater Manchester have increased by 500 per cent centre after the bomb attack in the city, according to police figures. Hundreds of complaints about attacks, threats and vandalism directed against Muslim residents were received by GMP in the wake of the Arena attack on May 22.
Muslim organisations - as well as individuals and families - now say they face daily harassment and abuse by those who wrongly blame them for the actions Islamist-inspired Salman Abedi.
UNQUOTE
The Mail's readers are not stupid enough to believe it. This is government propaganda. Government policy is different; it is about protecting Islamic infiltrators. It is Get Used To It Suckers. If you are English you don't matter.
Importing Third World parasites is Ethnic Fouling, population replacement, Genocide & Treason. So is denying it. Why are they doing it to us? Because Jews Want Third World Immigration. Pandering to Zionist crazies is what Her Majesty's Government does.
Fight Happens In London [ 3 July 2017 ]
Black blocks road. Englishman acts & gives a good account of himself. The Mail didn't show all of it, making it less easy to see who started it.
Deadly Arsenal Headed For Britain Intercepted In France Alleges Daily Mail [ 3 July 2017 ]
The Mail's readers are not stupid enough or ignorant enough to believe it. These allegedly "viable" toys are chambered for .22 CB; they are about as effective as the average air gun. The police like to claim that they are protecting us against gangsters but Police Allow Islamic Rapists To Walk Free
Fight Happens, The Daily Mail Lies About It [ 12 July 2017 ]
The video shows the car being attacked before two men get out, to take the war to the enemy. The Mail takes the position that they are the perpetrators. Look for yourself. Think for yourself. Decide for yourself.